The sweet spot in the Aqua DAC lineup
Review sample supplied by Hexagon Audio
Retail price: 6.860 euro
As regular readers know, I was so hugely impressed with the Aqua Formula xHD DAC that I made it a permanent part of my reviewing arsenal. Just recently, I also briefly reviewed the La Voce S3 DAC as part of the AudioAanZee Reference Flow mkII music server review. Following this, Marco Oudheusden of Hexagon Audio, distributor for Aqua in the Netherlands and Belgium, visited in person to deliver the La Scala mkII. Positioned between the top-of-the-line Formula xHD and the entry-level La Voce, the La Scala may well provide an ideal balance of virtues.
Left: tube output section, Right: discrete R2R DAC board
Technical details
Upgradeability – many manufacturers claim it, few really deliver. Aqua is among the few that really do make upgrades available in the form of circuit boards that can easily be retrofitted to older products. For example, Aqua's proprietary Optologic D/A conversion system, one of the reasons why the Formula xHD DAC performs so well, is now available for the La Scala MkII DAC.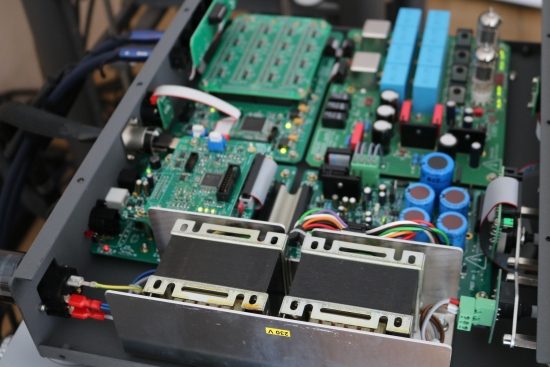 Just look at that very healthy-looking power supply section
The list of features is endless but highlights include proprietary FPGA-based digital decoding without digital filter, Discrete R2R ladder DAC, Jitter-free digital interface AQlink following I2S protocol, a fully-discrete Tube-Mosfet direct-coupled analog stage in pure class-A without negative feedback, and a modular design with an upgradeable multi-board system.
Interestingly, the La Scala is the only Aqua product to contain tubes. The DAC uses a Tube/Mosfet hybrid circuit, with a pair of specially selected ECC81 tubes. Rather than creating a product that sounds tube-stereotypically rosy and sweet, Aqua has voiced the La Scala mkII to sound articulate and open, in fact, it follows closely in the footsteps of the Formula xHD DAC.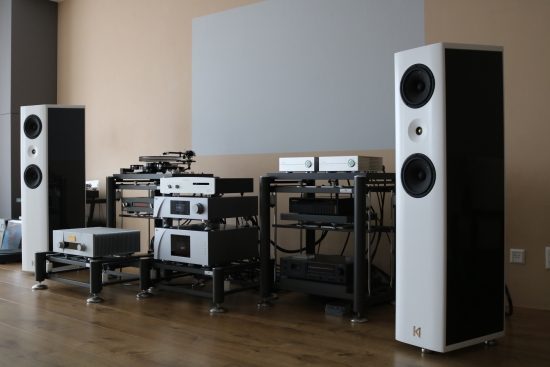 Systems
I used the La Scala mkII DAC in two systems and in each case compared it with my reference in its price class, the Formula xHD DAC. The main system consists of Kroma Audio Carmen speakers normally driven by a CH Precision A1.5 amplifier fed directly by the CH Precision C1 DAC. As such, I don't use an analog preamp and thus cannot properly assess the Aqua DACs as they have no volume controls.
As perfect timing would have it, the Goldmund Telos 590 integrated amplifier was simultaneously visiting for review and so I carried out the Aqua comparisons with the Goldmund amp. The digital source is an Antipodes CX+EX Music Server combo with Final Touch Audio Callisto USB cable. The power cable was a Belden with Oyaide C004 connector and the interlink was the Vermouth Reference.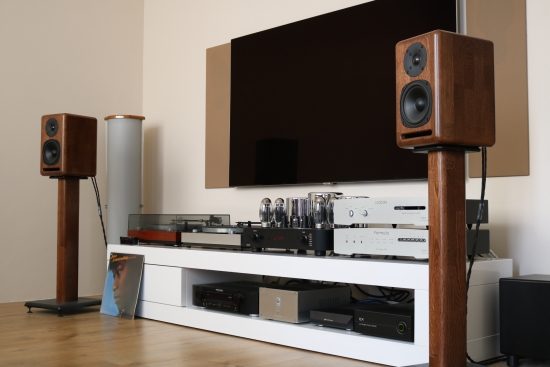 The secondary system consists of Xavian Perla Esclusiva speakers fed by an Ayon Spirit III integrated tube amp. The digital source is an Antipodes EX Music Server with a Curious Cables USB cable. The power cable is the Vermouth Reference and interlinks used are the AudioQuest Water and the Vermouth Reference.
Sound
The La Scala mkII has made a very favorable impression on me from the very first moments of listening. It seems to hardly need any time to warm up, a couple of minutes to allow the tubes to get going seems to be all that it takes for this DAC to shine with no obvious changes after further warming up. In fact, externally, the DAC does not get very warm at all and why should it? Excess energy dissipation is not by definition a sign of good audio quality.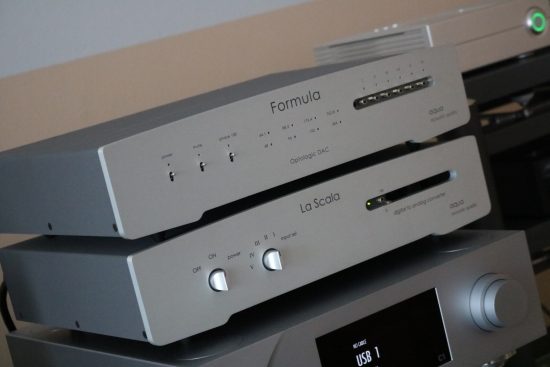 Switching from the Formula xHD to the La Scala mkII there is a very strong family resemblance. The La Scala is every bit as refined, has just as much low-level resolution, is just as nimble and dynamic and just as airy in the treble. Slightly warmer and rounder and slightly less articulate, the La Scala is just a touch friendlier. In terms of transparency and linearity, the Formula xHD remains the King but the La Scala strikes back with a more spacious soundstage with deeper imaging and just the right amount of bloom in the midrange so as to add a touch of harmonic richness but not at all in an over-ripe manner and without adding any coloration. Vocals and string instruments, especially, obtain a certain quality that makes them appear more 3D and even more human and, in a way, emotionally even more involving. The La Scala mkII is indeed a touch warmer than the Formula xHD but from memory, it is not as warm as the La Voce and definitely more articulate and transparent.
The Formula xHD remains the ultimate reference and I value its neutrality and especially in the context of the sonorous sounding Xavian setup the Formula xHD's ultimate transparency and linearity made for a supremely synergistic match even if I was heavily seduced by the La Scala's harmonically rich midrange. In the more accurate Kroma/Goldmund system I can swing both ways and would have a tough time deciding between the two DACs. Ultimately, I think it's fair to say that the Formula xHD is so utterly precise that in some combinations it may be perceived as being a little bit too analytical. And that's where the La Scala comes in, giving away very little, costing less and possessing of that midrange magic that only tubes seem to bring.
As a side note: Aqua will be issuing an upgraded output stage board for the Formula xHD DAC which, according to the manufacturer, will elevate the Formula xHD's performance to an all new level. When the board is ready for release it will be fitted in my unit and I will then report on its assets.
Tube Rolling
As the manufacturer has specially selected the tubes, it is not recommended to experiment with them but if you wanted to, you could. In this case, my experiment was fueled by a recent change in tube complement by the manufacturer. Up until recently, the La Scala was delivered with Telefunken ECC81 tubes but now they started using the Genalex Gold Lion ECC81. The DAC was delivered with the Genalex tubes installed but Marco was so kind to also include a pair of Telefunkens for me to compare.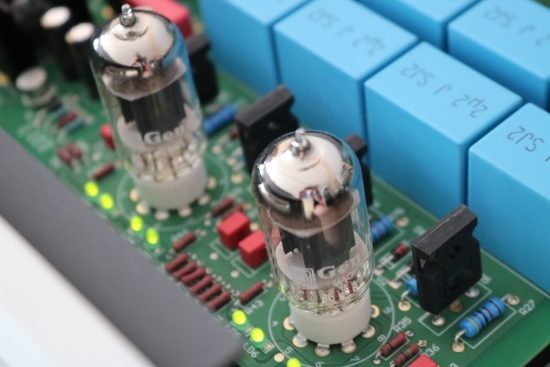 The Genalex Gold Lion ECC81 tubes
Well, on this subject I can be very brief: the Genalex tubes are an easy and utter improvement over the Telefunken tubes. The new ones are much more refined and agile as well as more energetic, yet sweeter and airier and very liquid. On top of this, they provide wider soundstaging and clearer positioning of images therein. Yup, this is a very easy call, no ifs, and buts: the new tubes are simply much better.
Conclusion
The La Scala mkII DAC may well hold the sweet spot in the Aqua DAC lineup. It gives away very little compared to the Formula xHD, costs less and adds an utterly seductive touch of tube magic. I hasten to add that the tubes don't take away any speed or dynamics nor do they cloud any details but, still, their contribution is unmistakable and highly addictive.
Distributor for the NL/Belgium: hexagonaudio.eu/nl
Manufacturer's website: aquahifi.com